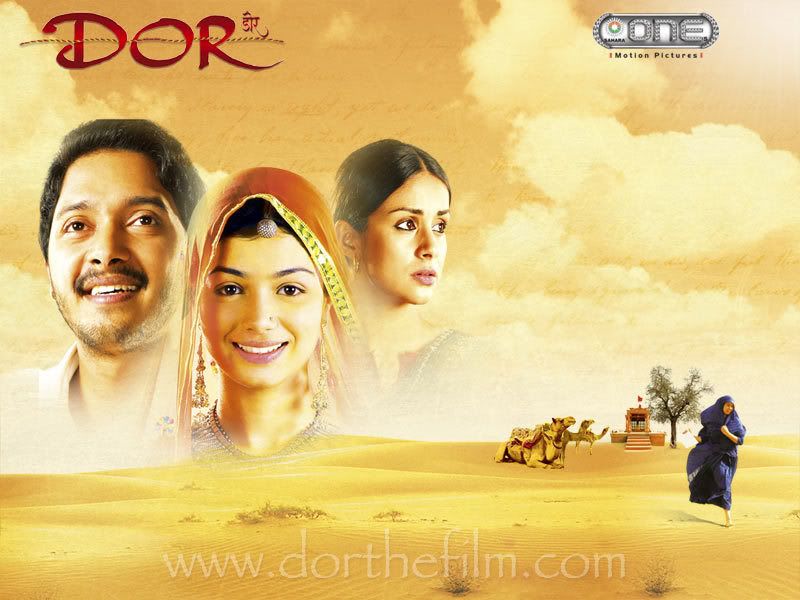 Picture courtesy: www.dorthefilm.com
I am not a movie buff; I don't watch movies as soon as they are released or pick out obscure ones that a select few have gone gaga over.
I watch movies
if and only if
I have company to do it.
So, last Saturday, as Aarti, Manu, Vivek, and I reached Forum after dinner in The Hungry Buddha, we didn't really anticipate that we were going to watch a really nice movie. Yes, the reviews were good but like they say for the pudding, the proof is in the experience. And what an experience it was!
For starters, the contrasting landscapes sort of sets the principal characters apart. Like the barren desert with soft undulating sands washing over towns and the countryside, Meera
(Ayesha Takia)
is a young bride who lives her life under the feet of the men in her family. Solely devoted to her husband (I was extremely surprised to see
Anirudh
, a Kannada theater and TV actor as Shankar Singh, her husband), she meekly follows orders and bears all painful references by her mother-in-law towards the caring Shankar. Up north, amidst the cold winds of the Himachal, a resourceful woman Zeenat (
Gul Panag
, a revelation) accepts a proposal from her "fiance" and shows gumption to make a living even after wedding and her husband goes to Saudi Arabia to..what else...make money.
Some months later, fate drives Zeenat in search of Meera
.
On the way, Zeenat encounters a human chameleon, simply called Behrupiya (
Shreyas Talpade
, the pick of the cast). At once entertaining and dubious, he accompanies Zeenat in her quest for Meera. As the two women finally meet and befriend each other, they realize that they have much in common, despite the glaring differences. Until the day comes when their friendship is set to face the trial by fire.
Nagesh Kukunoor is an intelligent filmmaker. He knows the pulse of the audience and with some God-given gift, manages to create films that appeal to a wide audience, without stoking their expectations too much. When I saw
3 Deewarein
some years ago, I was blown away by Juhi Chawla's performance. And he went ahead and made
Iqbal
. Which was easily one of the best triumph-of-spirit genre of movies from Indian mainstream cinema I've seen in some time. And now,
Dor
is that kind of movie that you wouldn't expect a suave director like Nagesh to make. Then again, there no rules to creativity, so this works and works exceedingly well.
Though I ain't no expert in cinematography, I can guess that it takes a lot of effort to capture the emotions and moods of actors when there's not much makeup. To ensnare that natural look without letting it show as "jet-lag" or "the morning after look" is a pretty good skill and the camerawork for this movie is quite impressive. Ditto the background music, full of Rajasthani folk songs and a very hummable
"Yeh hausla kyun jhuke"
.
The best certification came from my friend Vivek, who has a tremendous anathema to Bollywood. He's the kind of guy who doesn't mind watching a Chinese flick dubbed in Tamil coming in Vijay TV instead of
"Kabhi Alvida Naa Kehna".
"Lovely movie"
is what he said.
RATING: 4.5/5